History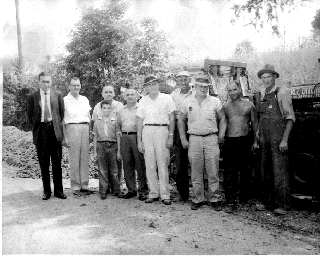 Laying of First Water Line-1959 - (Left-Right) Joe Reed-Attorney, Clyde Stanifer-Commissioner, Danny Thomason-Son of Manager, Haskell Thomason-Manager, T.L. Thomason Jr-Commissioner, Ross Walker-Commissioner, Construction Crew of Pierce Ditching of Kingsport, TN.
In 1957, Campbell Wallace of Campbell Wallace Consulting Engineers of Knoxville, TN., met with the area Ruritan Club, discussing, the organization of a Utility District that would serve water to the Russellville and Whitesburg communities. It was decided to move forward, thus a petition was filed with the Hamblen County Court requesting the incorporation of a Utility District. The matter came to be heard before the Honorable H.S. Spoon, County Judge of Hamblen County, on the 5th day of December 1957. It was ordered, adjudged and decreed by the court that Russellville-Whitesburg Utility District be created.
The Daily Gazette and Mail published an announcement that applications were available for those desiring water service that lived along the proposed water lines in the Russellville and Whitesburg area. A map that showed the location of the proposed water lines was displayed to be examined at T.L. Thomason's Grocery in Russellville. Applications were obtainable at Fisher Brothers, Winstead's Market, T.L. Thomason & Sons, Payne Brothers, or from one of the Districts Commissioners, J. Ross Walker, T.L. Thomason, and Clyde Stanifer. Approximately 350 people signed up to become the first customers of Russellville-Whitesburg Utility District.
In August 1959, Russellville-Whitesburg Utility District entered into a contract with Morristown Water and Light Commission (now Morristown Utilities System, MUS) for the purpose of furnishing the District with water. From its inception RWUD has purchased water from MUS and continues to do so today.
Russellville-Whitesburg Utility District's first office was located in T.L. Thomason and Sons General Store. A person could purchase an RC Cola and Moon Pie while paying their water bill. The building was partially destroyed by fire in 1965 but did not hinder operations. RWUD continued to reside in the same building until a new facility, consisting of an office and work center was constructed in 1988, then serving approximately 3,000 customers.
The beginning staff at RWUD consisted of three(3) part-time employees, one of whom was the acting manager, Haskell Thomason. Mr. Thomason held the position of General Manager until his retirement in the late 1970's. Gary Marshall became manager and held that position until Otis "Jack" Fawbush acquired the position of General Manager in 1981. During Mr. Fawbush's reign as manager, the District grew to serve approximately 6,000 customers, which consists of the Eastern half of Hamblen County, the Town of Bulls Gap, and portions of Hawkins and Greene Counties. Bobby Anderson was General Manager from September 2001 though February 2009, followed by Jamie Carden from February 2009 through January 2016. Taylor Howington currently serves as the General Manager of RWUD. The staff at RWUD consists of 12 full-time employees.